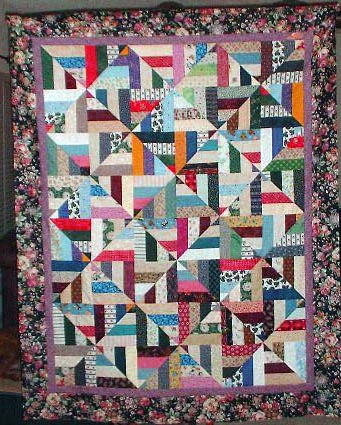 If begun is half done, then I have a lot of things half done! One of my projects is a king size quilt. The pattern is called "Strip Twist"and it uses 2.5" strips. I cut soooo many strips. This roll is what's left over. The picture above is the sample, but mine will be much larger.
I made 100 blocks of 4-strips.
Next I will square them, cut them diagonally and put them back together!
The darks and lights line up to make the illusion of motion.
This is the beginning of a smock-along I am doing with Adorable Heirlooms. The design is a mystery, so I only know that it will be a full-bodice piece for a dress. My fabric is a soft lawn from Fabric Finders.
This is a tiny Wee Care dress that I am making from a vintage 13" doll pattern. It has lovely details, like pleats under each arm for fullness. I am totally hand-sewing this. It will have ecru entredeux and lace. I like to have stitching to work on when I take my little boys here:
We spend at least 3 days a week at a beach at the lake in our town. We see friends and have cook-outs and everyone has fun!
This is another project I pull out at the lake. It is another vintage smocking transfer. This time it's brown on light blue.
Do you have a bunch of projects going at once or are you disciplined to work on one thing at a time?