I enjoyed reading everyone's stories of how they have "paid it forward." I try to live my life with an "attitude of gratitude" and I have much to be grateful for. Here's my little PIF before I announce the winner: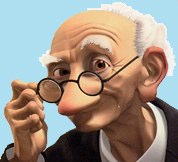 My parents spend a lot of time at the beach and my kids and I are lucky to be able to visit them often. When we go, we are totally spoiled with activities, attention, and yummy food. We often eat out and it's always my parents' treat. The area they are in has amazing antique architecture and also terrific restaurants. One of our favorites is a traditional American restaurant with a simple, seaside decor. They have early-bird specials which include salad, entree, dessert, and coffee. It's always quiet, delicious, and great service. On the night in question, my parents, my 5 kids, and I were eating there. My Dad (at 70ish) was the young adult in the place, I felt like a teen again, my kids were the "babies". We had fun joking about it. My daughter Katie and I noticed an old man at a table near us who was eating alone. We quietly commented to each other how much he reminded us of my late father-in-law (who just died a year ago). He was just so "cute," yet we both felt a little sad to see him alone. I snuck out to the reception area and asked the girl there if I could give her my credit card and pay for his dinner. They thought it was a great idea and shared that he eats there once a week for the early bird special and lives all alone. We were at our table when the waitress told him someone wanted to treat him to dinner. He kept asking her who it was. She said, "if you look around, you might figure it out." We were seated pretty close, but my back was to him. Katie could see him looking around, obviously figuring out which lady had a secret crush on him. He never even considered us! It was really fun to do and Katie and I fondly remember the man who reminded us of "Grandpa".
Now, on to the winner!!
Made by Rox said...

I payed it forward by participating in Sewing to Rebuild (it was a sewing participation even to give back to those who lost everything during the Oklahoma tornadoes)

Rox- your profile doesn't have a way to reach you, so please leave a comment or email me with what size range of patterns you would like (girls or ladies) and what email to send them to. If I don't hear back by Saturday night, I will choose a new winner on Sunday. Thanks to all who entered!